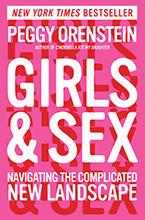 GIRLS & SEX: NAVIGATING THE COMPLICATED NEW LANDSCAPE
In New York Times best-seller Girls & Sex, renowned journalist Peggy Orenstein fearlessly pulls back the curtain on the hidden truths, hard lessons, and important possibilities of girls' sex lives in the modern world. The book draws on in-depth interviews with over seventy young women and a wide range of psychologists, academics, and experts to offer a clear-eyed picture of the new sexual landscape girls face in the post-princess stage—high school through college—and reveals how they are negotiating it.
The book's final chapter focuses on Charis Denison's work with teens and how we, as a culture, might better handle raising children & teens with a healthy understanding of themselves and their relationships.